Shining the Spotlight on 'My Heart Stopped Beating' by Chamed
Join Chamed, author of the survival memoir My Heart Stopped Beating as she virtually tours the blogosphere in July, August & September 2011 on her first tour with Pump Up Your Book!
About Chamed
Chamed is not the registry office name of the author, yet it is not a pseudonym. She lives in Tuscany, she works mostly abroad, as a painter on canvas and porcelain. Some of her porcelain works are displayed in exhibitions in Italy, Sweden and Poland, France, Portugal and Brazil. My Heart Stopped Beating is her first novel. A second novel by her is forthcoming.
About My Heart Stopped Beating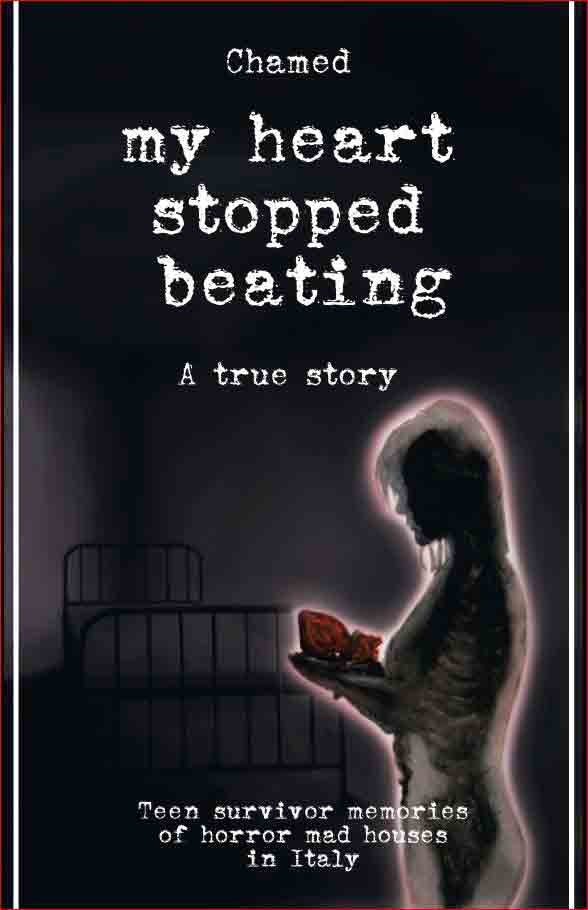 Fourteen year old Italian girl, Chamed, is a living miracle after fighting illness since birth to live a normal life. Now fourteen years old, she feels a thrill of freedom when she convinces her parents to let her stay home alone while they go on holiday. She soon regrets that decision when she receives a call from her aunt Patrizia that the worst has happened: her parents have died in a car accident.
Things only get worse for Chamed as she mourns the deaths of her parents and suffers under the care of her aunt and uncle. Her aunt repeatedly abuses her and convinces others that she is an evil child. When Chamed's best friend's father sexually harasses her, the blame is placed on Chamed. Deeply depressed, she attempts suicide, only to find herself waking up in a mental hospital. Her nightmare is only beginning as she is subjected to electroshock therapy against her will – and worse from the nurses and doctors.
Finally she finds hope again in Dr. Franco, but will he be enough to save her from this living nightmare?
"Why am I here? I am in a mental hospital! Dad, would you have thought it? Help me."
I dragged my body out of that mortal icehouse.
With great effort I started walking, but my energies abandoned me and I ensconced myself on the ground.
Don't remember where, but I was out, in the garden.
A man approached me, staring at me and crying. In his eyes I could see his soul shining.
He said: "You fell from the sky. And men have cut your wings!"
Weeping, I replied: "I'm afraid! Tell me why I'm here. How do I go?! Can you help me?"
"Angels are not afraid." And he went away.

My Heart Stopped Beating Tour Schedule
July – Month of Spotlights
Tuesday, July 5th
Paperback Writer
Wednesday, July 6th
Plug Your Book
Thursday, July 7th
Blurbs N' Bytes
Friday, July 8th
Between the Covers
Monday, July 11th
The Book Connection
Tuesday, July 12th
The Story Behind the Book
Wednesday, July 13th
As the Pages Turn
Thursday, July 14th
Let's Talk Virtual Book Tours
Friday, July 15th
Book Marketing Buzz
Monday, July 18th
Writing Daze
Tuesday, July 19th
If Books Could Talk
Wednesday, July 20th
Beyond the Books
Thursday, July 21st
The Writer's Life
Friday, July 22nd
Literal Exposure
Monday, July 25th

The Hot Author Report
Tuesday, July 26th
Review From Here
Wednesday, July 27th
Literarily Speaking
Thursday, July 28th
Examiner
Friday, July 29th
Books, Products and More
August and September Coming Soon!


Chamed's MY HEART STOPPED BEATING ONLINE BOOK TOUR JULY, AUGUST & SEPTEMBER 2011 will officially begin July 5th and end September 30th. If you would like to host her on her tour, please contact Jaime at jmfictionscribe(at)yahoo.com.au. Thank you for your support!