Interview with Romantic Thriller Author Dave Donelson
Dave Donelson's
career as a broadcaster, entrepreneur, and writer has taken him from the jungles of Australia's Cape York Peninsula to the minarets of Riyadh. He's climbed the spire of the Empire State Building, floated the Usumacinta River to the Mayan ruins at Piedras Negras in Guatemala, and photographed the tree-climbing lions and mountain gorillas of Uganda.
Dave's inquisitive, active lifestyle finds its way into freelance writing and photographic assignments for magazines like Disney's FamilyFun, Woodworker's Journal, and Las Vegas Magazine. Closer to home, he writes features for Westchester Magazine as well as a regular column on golf. He is a member of the prestigious Metropolitan Golf Writers Association.
His first novel, Hunting Elf, began as an audio book at www.huntingelf.com and was published as a trade paperback in 2006. K9 Perspective called it "…a delicious romp through the suburbs of New York."
Dave's first book was Creative Selling (Entrepreneur Press, 2000), a non-fiction prescriptive described by Brian Tracy as "…a terrific book on selling." As a business journalist, he writes for The Christian Science Monitor, Family Business Magazine, and dozens of trade p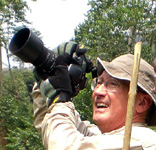 ublications serving industries from the automotive aftermarket to sporting goods retailing.
Dave has a BA in Rhetoric and Public Address from Missouri Western State University. He serves as a Trustee for the Westchester Library System, a consortium of 38 public libraries serving Westchester County, NY. He lives in West Harrison, NY, with his wife, Nora, and an ever-changing roster of dogs and cats.
Visit
www.davedonelson.com
for a selection of Dave's work. You'll also find him on
MySpace
,
Facebook
,
Gather
, and
Amazon
.
Welcome to The Writer's Life, Dave. Can you tell us a little bit about yourself and how long you've been writing?
I've been a writer as long as I can remember, although I made it my full-time profession about eight years ago. Before that, I had a long career in broadcasting, starting as a radio newsman and ending as a TV station owner and entrepreneur.
Can you please tell us about your book and why you wrote it?
Heart of Diamonds

is a romantic thriller about blood diamonds in the Congo. It's a high-concept novel with a plot that involves the White House, the President of the Democratic Republic of Congo, and an American televangelist in a diamond smuggling scheme that is uncovered by a TV reporter, Valerie Grey. It sprang from an article I read in Time Magazine about the cozy relationship between Pat Robertson, the famous American televangelist, and Mobutu Sese-Seko, the dictator who raped the Congo for thirty years. When I found out Robertson owned diamond mines and timber concessions in the Congo—making profits from slave labor, no less—I simply had to write a book about it.
What kind of research was involved in writing

Heart of Diamonds

?
I spent a full year studying everything from the politics and history of the Congo to its flora and fauna. Then I traveled to Central Africa to get a real feel for the landscapes and people. I actually made two trips—one as I was finishing the first draft and a second one just before I wrapped up the third and final version.
How much input did you have into the design of your book cover?
Actually, quite a lot. Kam Wai Yu, the designer, was great to work with. The first version didn't capture the theme of the book, so I sent him some photos I'd taken in Africa and made some suggestions. He not only came back with a really great cover, but suggested we use some of my photos as chapter heads, which worked very well.
Has it been a bumpy ride to becoming a published author or has it been pretty well smooth sailing?
There's nothing smooth about publishing a book! It takes an immense amount of patience and perseverance. I've started, ran, and sold multi-million dollar companies with less personal difficulty.
For this particular book, how long did it take from the time you signed the contract to its release?
It was about a year, which seems like an eternity but really isn't when you consider how much prep work has to be done for promotion and production.
Do you have an agent and, if so, would you mind sharing who he/is is? If not, have you ever had an agent or do you even feel it's necessary to have one?
I don't have an agent currently but am not adverse to it. I hesitate to make a blanket statement because so much depends on the book itself, I think, and the writer's expectations for it.
Do you plan subsequent books?
As of the moment, I have three new novels underway. On the front burner is the sequel to

Heart of Diamonds

, which finds Valerie Grey investigating drugs and corruption in Central America. I'm also working on a follow-up to my first novel, Hunting Elf, and writing a historic romance set in the early days of radio.
Are you a morning writer or a night writer?
I start very early. I'm usually at my desk by 5 AM and write until noon, with a break for breakfast and a chat with my wife. I developed an early morning writing habit when I had to produce radio newscasts that aired at the crack of dawn.
If money was no object, what would be the first thing you would invest in to promote your book?
A publicist would be invaluable. It's very time-consuming to set up appearances, readings, and signings, arrange blog tours, send out press releases, and so on. I do it myself now, but I know it would be much more effective if I could turn it over to someone else.
How important do you think self-promotion is and in what ways have you been promoting your book offline and online?
You can't do too much self-promotion and if you do too little, you're book is doomed to failure. I used my experience in starting businesses to draw up a marketing plan for Heart of Diamonds as soon as the release date was set. It includes extensive blogging and a big presence on social sites like Facebook, weekly press releases to both online and traditional media, and a virtual book tour. I also did an email campaign specifically directed to libraries. I set aside a day every week to make face-to-face calls on bookstores. I've also become very involved in fund raising events related to the terrible war in the Congo, although that's more public service than book promotion.
Any final words of wisdom for those of us who would like to be published?
As they say in the Congo, "opika pende." That means "be strong."
Thank you for coming, Dave! Would you like to tell my readers where they can find you on the web and how everyone can buy your book?

You can learn more about my latest novel at www.heartofdiamonds.com. Among many other places, I blog at heartofdiamonds.blogspot.com.

Heart of Diamonds

is available at Amazon and other online retailers as well as bookstores everywhere.