Interview with Internet Dating Expert Cherie Burbach on Writing, Publishing and Promoting Her New Book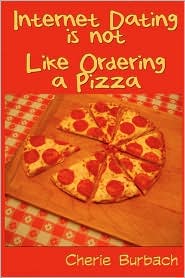 Cherie Burbach
used her experience with meeting her husband online to pen At the Coffee Shop, a humorous look at the world of Internet dating. Cherie went on over 60 coffee dates in just six months. She met lots of great people and one of those turned out to be the guy she would marry just one year later.
She is the Dating Feature Writer for Suite101, an online magazine with over 10 million views monthly, and also the author of three poetry books, including A New Dish and The Difference Now. Her latest, Father's Eyes, has received the 2008 Editor's Choice Award by Allbooks Review. Cherie blogs at Jennifer Lopez, Jessica and Ashlee Simpson, Career and Kids, Celebrity Apprentice, Gossip on Sports, and Diabetes Notes.
For poets looking for a review of their book, check out Cherie's new site
Bonjour Poetry Reviews
.
Readers have resonated with Cherie's honest and inspirational "This I Believe" essay, which is the second-most popular out of over 32,000 entries on the NPR website. For more information, please visit Cherie's website at
www.thedifferencenow.com
or
www.datingdatingall-things-dating.blogspot.com
.
Welcome to The Writer's Life, Cherie. Can you tell us a little bit about yourself and how long you've been writing?
I've been writing most of my life, starting with poetry and short stories when I was a kid. Writing has always been a healthy outlet for me and the thing I turn to most when I'm happy, sad, or anything in between. (I'm one of those people who have a notebook with me at all times!)

I've been writing freelance articles here and there for about ten years. About five years ago I wrote my first poetry book,

The Difference Now

. Now, I spent my days writing full-time as an author and blogger.

Can you please tell us about your book and why you wrote it?
I wrote my book,

Internet Dating is Not Like Ordering a Pizza

, for all those people that have tried online dating and given up. The Internet is a great way to meet the right person for you, but there is a science to it. I wanted to show daters that with the right profile and approach they can have success with Internet dating.
What kind of research was involved in writing

Internet Dating Is Not Like Ordering a Pizza

?
A few years ago I did Internet dating myself. In six months online, I met over 60 guys for coffee and conversation, and one of them was the man I married. I learned a lot about how to manage Internet dating, how to write a profile that attracted the right kinds of attention, and to approach potential dates.

In the last few years I've also worked with online daters on questions they have about their profiles, ending dates, and other dating issues they may have. The questions I receive always help me determine what kind of information daters are looking for.

How much input did you have into the design of your book cover?
I designed the cover myself, so I had plenty of input!
Has it been a bumpy ride to becoming a published author or has it been pretty well smooth sailing?
A few years ago I decided to start my own publishing company, and it has been a wonderful experience. The world of publishing has changed so much in the last few years, and now smaller publishers have access to the same distribution channels and printing methods as the larger organizations.
For this particular book, how long did it take from the time you signed the contract to its release?
I started writing the book two years ago. Once the book was finally finished it took about three months for editing, cover design, and release.
Do you have an agent and, if so, would you mind sharing who he/is is? If not, have you ever had an agent or do you even feel it's necessary to have one?
I don't have an agent and don't feel having one is necessary to get published. However, it depends on what your goals are. As I get more books published and develop different writing goals, it may be something I consider down the road.
Do you plan subsequent books?
Definitely. I have a book on diabetes coming out this year and am already working on another dating-related book.
Are you a morning writer or a night writer?

I used to be a night writer, especially when I wrote poetry. I love to write later at night, and usually do it in a notebook. Now, I write throughout the day.
If money was no object, what would be the first thing you would invest in to promote your book?
A great marketing team to get the word out. Marketing is the thing many authors shy away from, but it's a necessary component of getting your book out there. That's true if you publish yourself or if you end up with a large publisher.
How important do you think self-promotion is and in what ways have you been promoting your book offline and online?
Self-promotion is very important, and I'll admit it's something I have to work at. It doesn't come naturally, although I envy those folks that can do it with ease. As a creative person, it's hard to promote at times because it feels like "bragging."

However, "promotion" is simply getting the word out to the people who might be interested in your book. And that's a great thing!

I try and promote through outlets that seem like a natural fit for my audience. In the offline world, I have given lectures on online dating, which not only promotes my book but also helps those struggling with online dating. I have worked with online daters one on one on rewriting their profiles, and receive many questions each week from daters about relationships and dating.

I do a lot of online promotion through blogs, online writing, and websites. I believe bloggers have a very strong voice when it comes to products and it's important for authors to respectfully work with them when it comes to book promotion.
Any final words of wisdom for those of us who would like to be published?
Don't let the perceptions of others about a certain publishing method deter you. If you hear something negative about a large publishing company or about self-publishing, find out more before making a decision. Now more than ever, authors have a variety of options when it comes to getting published. The key is to write a book that people want to read.
Thank you for coming, Cherie! BTW, Cherie will be back tomorrow to answer whatever questions you may have about Internet dating. Leave your questions below and she'll answer them tomorrow or stop back by tomorrow and leave them. Thank you!