Interview with Annette Fuson, author of "Straight Talk for Teenage Girls"





About Annette Fuson
Annette Fuson has been a teacher of teenage girls for many years. She has a BS and MA degree in Education and has also taught at the college level. She is married and has a daughter and granddaughter. The book, "Straight Talk for Teenage Girls" is about topics she taught, where she learned that the changes taking place in teen girls' lives make them confused, afraid and frustrated. The information taught gave them realistic ideas to help them deal with this stage of life. The classes and discussions were lively and positive. The girls wanted ideas, encouragement and sensible answers to what was bothering them. She used this knowledge to write the book when she saw so many girls needed this kind of help. Girls need all the ideas and help they can get from school, parents, church and other adults to make good decisions that can help mold them with a minimum of problems along the way. Annette has a self-help test and case study at each chapter. Girls love these and adults who work with teens use them for discussion. It is in everyone's interest for all teenage girls grow to be happy and confident adults. To that goal is her mission with the book. She speaks and has taught workshops for teens and parents of teens where she has information sheets and tests on parenting. Annette has a business helping people look and dress their best for themselves and their careers. She gives presentations to businesses. But Annette Fuson's true purpose it helping teenage girls. She has been chosen Citizen of the Year and Queen of Sales many times. These accomplishments show she is a leader and a "people person" that can make a difference in many lives.
You can visit her at www.straighttalkforgirls.com
The Interview
Q: Welcome to The Writer's Life, Annette. Can you tell us a little bit about yourself and how long you've been writing?
A:I am a former teacher of teenagers and adults. I have a business in my home and am a people person. I am married with a daughter and a granddaughter. I have been writing about 4 years.
Q: Can you please tell us about your book and why you wrote it?
A:Straight Talk for Teenage Girls gives information on making choices in life situations. It is sensible ideas on problems all girls face with suggested answers so they can deal with the pressures. Examples: self-esteem, emotions, decisions, friendships with girls/boys, getting out of bad situations, handling mistakes and reaching goals. Each chapter has a self-test and case study for disscussion. Adults who work with teens use it for this reason. The mistake chapter has things to do and say, as well as, 800 numbers and websites for more information that can help them and their friends. There are also 50 questions from real girls at the end of the book. The mission is for girls to make choices that will help them reach adulthood successfully. I wrote it because I realized ALL girls needed this help.
Q: What were some of the biggest challenges you faced writing it?
A:Marketing the book since I am not famous.
Q: Do you have a press kit and what do you include in it? Does this press kit appear online and, if so, can you provide a link to where we can see it?
A:Yes. Contact: afuson@vvm.com
Q: Have you either spoken to groups of people about your book or appeared on radio or TV? What are your upcoming plans for doing so?
A:I speak to teen and adult groups, have had workshops on Tips to Handling Teens, as well as, ones for teens on You are in charge of your life. I have had several TV and radio interviews in Central Texas. Last week I had a radio interview in Conn. I speak about twice a month.
Q: Do you have an agent and, if so, would you mind sharing who he/is is? If not, have you ever had an agent or do you even feel it's necessary to have one?
A:I did contact an agent for nation wide speaking, but because of circumstances in my life then, I did not go ahead with her. I do think it is important, however it is too expensive now. I am trying the Pump up Your Book now. When you are not famous, you need an agent more.
Q: Did you, your agent or publisher prepare a media blitz before the book came out and would you like to tell us about it?
A:I had several local groups and businesses give me "book signings blitz's". They went very well. Now I do conferences with counselors and librarians because they are my big market to spread to many teens.
Q: Do you plan subsequent books?
A:Not at this time.
Q: Thank you for your interview, Annette. Would you like to tell my readers where they can find you on the web and how everyone can buy your book?
A:www.straighttalkforgirls.com or book stores as well as Amazon.com or B & B.com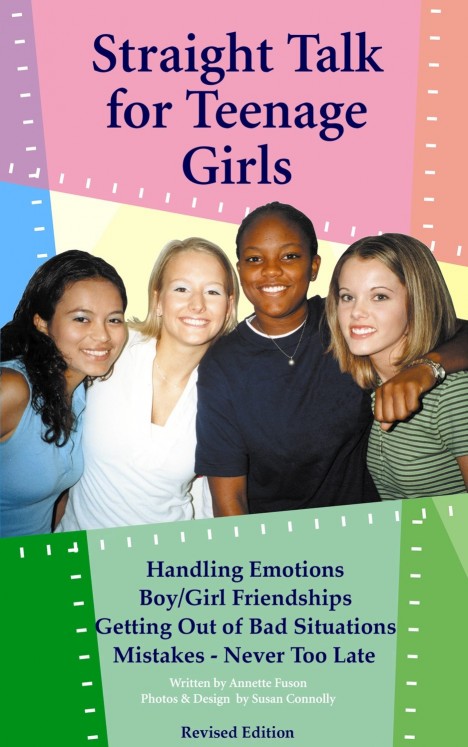 Straight Talk for Teenage Girls by Annette Fuson (click on cover to purchase at Amazon)
About Straight Talk for Teenage Girls
Straight Talk for Teenage Girls is information to help teen girls make better choices about life situations so they will grow to adulthood successfully. Topics include: self-esteem, dealing with emotions, making decisions, friendships with girls/boys, getting out of bad situations, handling mistakes and reaching goals. Because of the self-tests, case studies at each chapter and the 50 questions from real girls, adults who work with teens use the book for discussions. The information comes from classes taught in school for over 20 years. The book is up-beat, positive and easy to understand. The mission is to help all girls make choices that will lead to a happier life.
Read the excerpt!
"Mistakes are normal. Everyone makes mistakes. Mistakes don't have to pull you down. You can learn from your mistakes. It is never too late to fix a mistake! Mistakes come from making bad or wrong decisions. They come from being with the wrong person or being easily led by them. Mistakes come from not thinking ahead or mostly not thinking…"Is this what's best for ME?" You have NO control over other people, you only have control over yourself! Your mistakes will affect others too. You've learned in "Getting Out of Bad Situations" chapter that you have to learn to cope or take action when it comes to other people. Other people can't use you without your permission. So you have made a big mistake, let's learn from it and go on. It is NEVER too late to change, you just have to want to change. Let's look at some mistakes and what you can do to change or help a friend change: Choosing Wrong Friends, Being Promiscuous, Drugs and Alcohol, Getting Pregnant, Molestation, Self-Injury/Cutting and Controlling/Abusive Boyfriends."
Read what critics have to say!
"Straight Talk for Teenage Girls" is exactly what the title tells us, as Annette Fuson discusses important issues facing all teen girls today. The teen years are a time of change, and this can be confusing, frustrating and even scary for teens. Annette has made a resource for young ladies to go to for answers, suggestions or just for reassurance. During these teen years, hormones are raging, and sometimes it may be easier for a teen to read a suggestion from a reliable source than take some verbal advice from a well-meaning parent.
I can highly recommend "Straight Talk" to all teen girls and their concerned parents.
Reader Views
Annette Fuson's "Straight Talk for Teenage Girls" is a great guide for girl teens on everyday life struggles. I read this book in three days, and was amazed at what I realized about myself. A friend of mine asked to borrow the book and she gave it back the next day saying she absolutely loved the advice. Fuson offers advice on relationships, friendships, parents, and much more. She includes fun quizes and there are questions from real teens that she answers. I definitely give this book a thumbs up!
Andrea West
This was a great conversation starter for my daughter and I. We were able to talk about boys, sex, and other important topics that we did not feel comfortable talking about before. Great advice and simple to understand. Reminded me of Dr. Phil.
Susan Smith