Interview with K.L. Brady, author of THE BUM MAGNET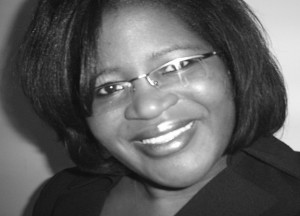 K. L. Brady is a D.C. native but spent a number of her formative years in the Ohio Valley. She's an alumnus of the University of the District of Columbia and University of Maryland University College, earning a B.A. in Economics and M.B.A., respectively. She works as an analyst for a major government contracting firm and is an active real estate agent with Exit Realty by day—and writes by night (often into the wee hours of the morning). She lives just outside of D.C. in Cheltenham, Maryland, with her son and lives to eat chocolate, shop, read, and write.
Her upcoming adult novel,
THE BUM MAGNET
, will be published by Simon & Schuster's Pocket Books in March 2011. THE BUM MAGNET was the winner of the 2010 Next Generation Indie Book Awards for Multicultural Fiction, as well as the Third Place Grand Prize Winner for Best Fiction of 2010. Moreover, the African Americans on the Move Book Club recently named her their 2011 Female Author of the Year. You can visit K.L. Brady's website at
www.authorklbrady.com
.
Become friends with Karla at Twitter at
www.twitter.com/karlab27
and Facebook at
www.facebook.com/karlab27
.
About The Bum Magnet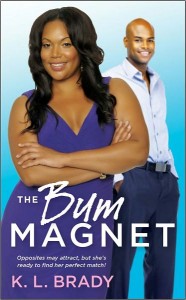 Charisse Tyson's got it all going on . . .
She's a savvy, successful real-estate agent with a quick wit, a low tolerance for BS, a gorgeous size-14 body, and a thirst for top shelf vodka. Despite her dream house, luxury car, and appetite for life's best—like fine dining and hot men—she seems to have her own special talent for attracting players. Why do all of her ex-lovers belong in the Losers Hall of Fame?
There was Lamar, the hazel-eyed Adonis who sowed more wild oats than Quaker. . . Sean, an expert at juggling relationships . . . Marcus, whose lips wandered as often as his eyes . . . and others, too. But just as Rissey swears off sex and vows to dump her emotional baggage, she meets house-hunting client Dwayne Gibson. There's no way she can resist his seductive smile and rock-hard body. . . . Will Dwayne turn out to be the biggest bum of them all? Or will this time be different?
Q: Welcome to The Writer's Life, Karla. Can you tell us how long you've been writing and how your journey led to writing your latest book, The Bum Magnet?
I've been a closet writer since I was maybe seven or eight years old, always keeping my thoughts to my journals. I never had any thought of becoming a published author until the summer of 2008 when I was nearing the big four-oh and had one of those, what am I going to do with the rest of my life panic attacks. After a heavy dose of Oprah's "Live Your Best Life" series, I decided that I would fulfill my dream of writing a book. Four months later, the first draft of The Bum Magnet was complete. I haven't looked back since…and I hear more voices than I can write to. That either means I have a long career ahead of me or I need heavy medication—or maybe both.
Q: I love your title…can you tell us why you chose it?
The Bum Magnet is about the tenth title I came up with. I settled on it because it was short, memorable, and conveyed the content as well as the humor of the novel. It was one-stop shopping.
Q: Why did you believe your book should be published?
So many intelligent, successful single women, regardless of color or ethnicity, repeatedly get involved in dead-end relationships and people on the outside looking in usually can't understand why. How is that you could have your life together on the professional side, but not the personal side? Part of that answer is that we use different skills to succeed in business as opposed to our relationships, which are emotionally driven. The Bum Magnet puts magnifying glass on the poor relationship decisions and personal crises that might lead a woman to make the same mistakes over and over again in realistic but hilarious way. The character is one most people (women) can relate to, and her journey is one that will both entertain and enlighten.
Q: We all know that publishers can't do all of the publicity and that some lies on the author. What has your publisher done so far to publicize the book and what have you done?
I don't believe it's a secret within the publishing world that most mid-list authors bear most of the responsibility for their promotion. My publisher has sponsored book giveaways on blogs, promotes my book on all of my imprint's and the main publisher's web and social networking sites, allows authors to host a blog on it's website, and allow authors to make promotional videos for free at their studio. As for me, I'm doing everything else. I maintain a publishing and relationship blog, write articles on relationships which have been featured on Simon & Schuster's Tips on Life and Love website, as well as Yahoo! Shine, and BlogHer, engage in the range of social networking (Twitter, Facebook, MySpace, etc.), maintain my own website, create promotional videos on you tube, participate in book signings at book fairs and bookstores when possible, participate in blog tours, and anything else I can do to get my name out there. It's hard work, very hard work. But I'm loving every minute while it lasts.
Q: What book on the market can it compare to? How is it different? What makes your book special?
Readers have compared The Bum Magnet to Bridget Jones'Diary and Waiting to Exhale which are enormous compliments. Others have said it's a Tyler Perry movie in a book because of the humor and the spiritual element. What makes The Bum Magnet special and different is that it integrates the spiritual, humor, drama, and entertainment elements which enable it to appeal to a wide multicultural audience (primarily women) who can appreciate Tyler Perry, Terry McMillian, and Helen Fielding in one book. How many other books can claim that? I haven't ready any that I can recall. This tells me even though the main character is African American, people view it as a human story, not black or white. I couldn't ask for more.
Q: Open to a random page in your book. Can you tell us what is happening?
The main character Charisse uses her journals to reflect on her past relationships in an attempt to discover how she became a bum magnet. On this page, she recalls her college boyfriend Lamar, who had been a player from the moment they met but she dated him anyway. In this scene, after experiencing major doubts about his fidelity, she breaks into his voice mail and listens to his messages with alarming but hilarious results.
Q: Do you plan subsequent books?
Yes, indeed. I have multiple series planned. Four of them in fact. The first series deals with relationships and include the sequel to The Bum Magnet, Got a Right to Be Wrong, which will be published in 2012. The second is a series of young adult romantic comedies based on Jane Austen and featuring African American teen characters. The first book, Worst Impressions, is a YA urban retelling of Pride and Prejudice.

The third is a young adult series called Soul of the Band featuring a troubled African American teenager whose mother suffers from mental illness. So she's shipped to live with an aunt in small-town

Ohio

where she becomes the first African American member of an all white marching band. And the last series is based on a female FBI Agent J.J. McCall, who has a secret superpower (of sorts)—she's a human lie detector. This "power" makes her one of the best spy recruiters and helps her to solve the most complex counterintelligence cases the Bureau's ever seen.
Q: Thank you for your interview, Karla. Do you have any final words?
If you would like more information on me or my works in progress, please visit my website at www.authorklbrady.com

or on Facebook at www.facebook.com/KL-Brady.