Farsighted Virtual Book Publicity Tour December 2011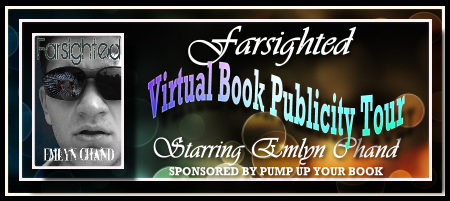 Join Emlyn Chand, author of the YA paranormal novel, Farsighted (Blue Crown Press), as she virtually tours the blogosphere December 5 – 16 2011 on her first virtual book tour with Pump Up Your Book!
About Emlyn Chand
Emlyn Chand has always loved to hear and tell stories, having emerged from the womb with a fountain pen grasped firmly in her left hand (true story). When she's not writing, she runs a large book club in Ann Arbor and is the president of author PR firm, Novel Publicity. Emlyn loves to connect with readers and is available throughout the social media interweb. Visit www.emlynchand.com for more info. Don't forget to say "hi" to her sun conure Ducky!
Farsighted is her latest book.
Visit her at Facebook at www.facebook.com/emlynchand and Twitter at www.twitter.com/emlynchand!
About Farsighted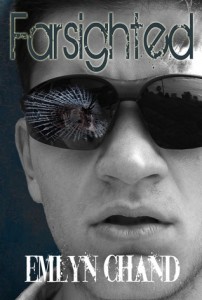 Alex Kosmitoras's life has never been easy. The only other student who will talk to him is the school bully, his parents are dead-broke and insanely overprotective, and to complicate matters even more, he's blind. Just when he thinks he'll never have a shot at a normal life, a new girl from India moves into town. Simmi is smart, nice, and actually wants to be friends with Alex. Plus she smells like an Almond Joy bar. Yes, sophomore year might not be so bad after all.
Unfortunately, Alex is in store for another new arrival—an unexpected and often embarrassing ability to "see" the future. Try as he may, Alex is unable to ignore his visions, especially when they begin to suggest that Simmi is in danger. With the help of the mysterious psychic next door and new friends who come bearing gifts of their own, Alex must embark on a journey to change his future.
Book Excerpt
Our hero is about to embark on a journey. Life as he knows it is quiet, boring, and predictable, but it's also comforting and familiar. That will soon change.

Today is the last day of summer, but I'm not doing anything even remotely close to fun. I'm just lying here in Mom's garden, running my hands over the spiky blades of grass—back and forth, back and forth until my fingertips go numb. Until everything goes numb. I sigh, but no one's around to hear.

"Alex," Dad yells from the kitchen window. "Dinner."

Already? How long have I been out here? I spring up from the ground and the grass springs up with me, one blade at a time – boing, boink, boint. The sounds wouldbe imperceptible to any normal person, but they roar inside my ears. I picture an army of earthworms raising the blades as spears in their turf wars and smile to myself.

Dad opens the back door and calls out to me again. "C'mon, Alex. What's taking you so long?"

Grabbing my cane, I shuffle over to the house, brushing past himas I squeeze inside. The kitchen reeks of fast food restaurants and movie theaters—butter and grease.That means it'sbreakfast for dinner. We do this every Sunday night, because Mom goes out to garden club and Dad doesn't know how to cook anything else. Plus it's cheap.

Breathing heavily, Dad plunks some food onto both our plates and collapses into his chair. He groans and asks me to pass the butter, or rather the "bud-dah." He grew up in Boston and every once in a while the accent works itself into his speech.

I slide the tub to dad; he reaches out and stops it before it can glide clear off the table.

"What's this?" Dad asks.

"Uh, the butter.Obviously."

Dad's voice raises an octave. "I know it's the butter, so don't get smart. Why'd you give it to me?"

"Uh, because you asked me to."

"No, I didn't." He exhales as if the wind has been knocked out of him by an ill-timed punch to the stomach. "Guess you must've read my mind." He chuckles to himselfand slides the cool metal knife into the butter and scrapes it across his toast.

Dad and I don't usually talk to each other unless Mom is around, asking about our days, chatting on, working hard to create those warm and fuzzy family moments we don't seem to create naturally. And even though Mom has reassured me a million times, I know that Dad resents me for being born blind.

I can tell he would have much rather had a son like Brady—the same guy who insists on making my high school experience as difficult as possible.Nothing's worse than knowing that your own father thinks you're a loser.
Book Trailer
Watch at YouTube at http://youtu.be/tZjskE5zjzM
Giveaways, Contests & Prizes!
To celebrate the release of Emlyn Chand's new YA parnaormal, Farsighted, she is offering one free e-copy of her book at Pump Up Your Book's 1st Annual Holiday Extravaganza Facebook Party on December 16. More than 50 books, gifts and cash awards will be given away! Click here for details!

Farsighted Virtual Book Publicity Tour Schedule

Monday, December 5
Book spotlighted at Literarily Speaking
Tuesday, December 6
Book reviewed at Bookworm Lisa
Wednesday, December 7
Book reviewed at Book Nook Club
Thursday, December 8
Book reviewed at Nightly Reads
Monday, December 12
Book reviewed at Bookish Delights
Book reviewed at The Top Shelf
Tuesday, December 13
Interviewed at Coffee and a Keyboard
Wednesday, December 14
Book reviewed at Krazy Book Lady
Interviewed at Book Marketing Buzz
Thursday, December 15
Interviewed at Virginia Beach Publishing Examiner
Friday, December 16
Book reviewed at Cafe of Dreams
Interviewed at As the Pages Turn
Chat with Emlyn at Pump Up Your Book December Authors on Tour Facebook Party!

Emlyn Chand's FARSIGHTED VIRTUAL BOOK PUBLICITY TOUR will officially begin on December 5 and end on December 16 '11. Please contact Dorothy Thompson at thewriterslife(at)gmail.com if you are interested in hosting and/or reviewing her book. Thank you!