The Noctuary Online Book Tour December 2011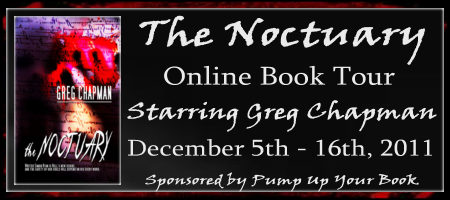 Join Greg Chapman, author of the horror novella The Noctuary as he virtually tours the blogosphere in December 2011 on his first tour with Pump Up Your Book!
About Greg Chapman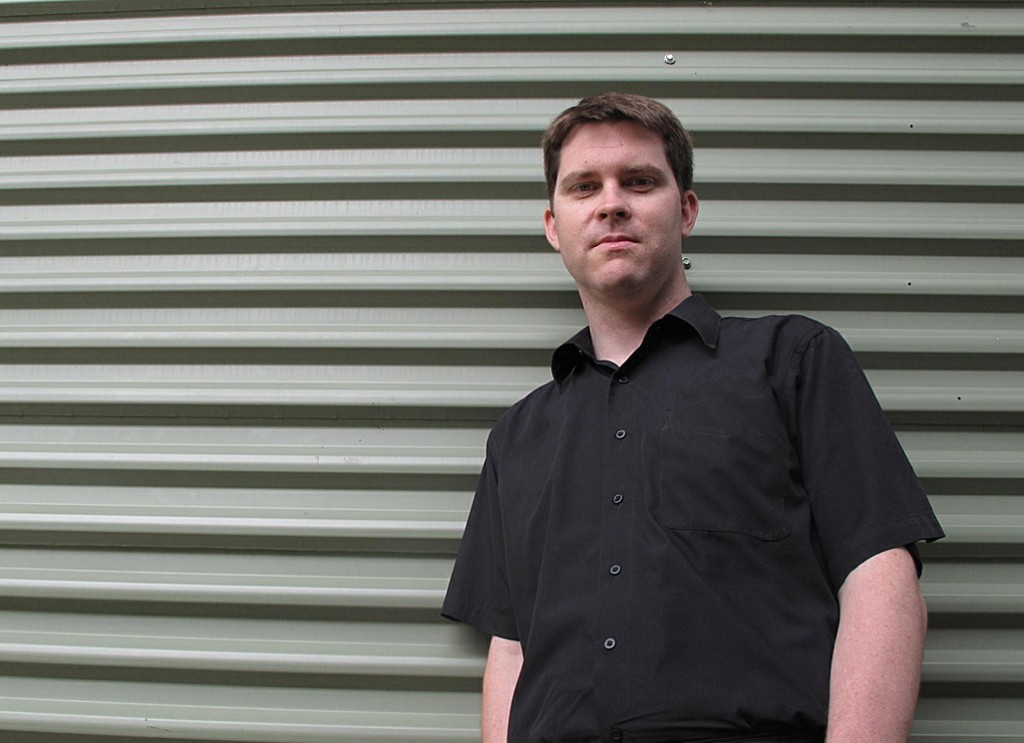 Greg Chapman is an emerging dark fiction author from Australia.
In 2009 he was selected in the Australian Horror Writers Association's Mentor Program under the tutelage of Melbourne author Brett McBean.
Since then he has had short stories published in The Absent Willow Review, Trembles Magazine and Morpheus Tales and Eclecticism.
Damnation Books published his first novella "Torment" in March 2011 and will release his second, "The Noctuary" in December 2011.
Apart from his writing ability, Chapman is also an accomplished horror artist with publication credits in Midnight Echo Magazine and Andromeda Spaceways Inflight Magazine. He is currently illustrating a graphic novel for horror authors Rocky Wood and Lisa Morton, to be published by McFarland in early 2012.
You can find him on the web at www.darkscrybe.blogspot.com
About The Noctuary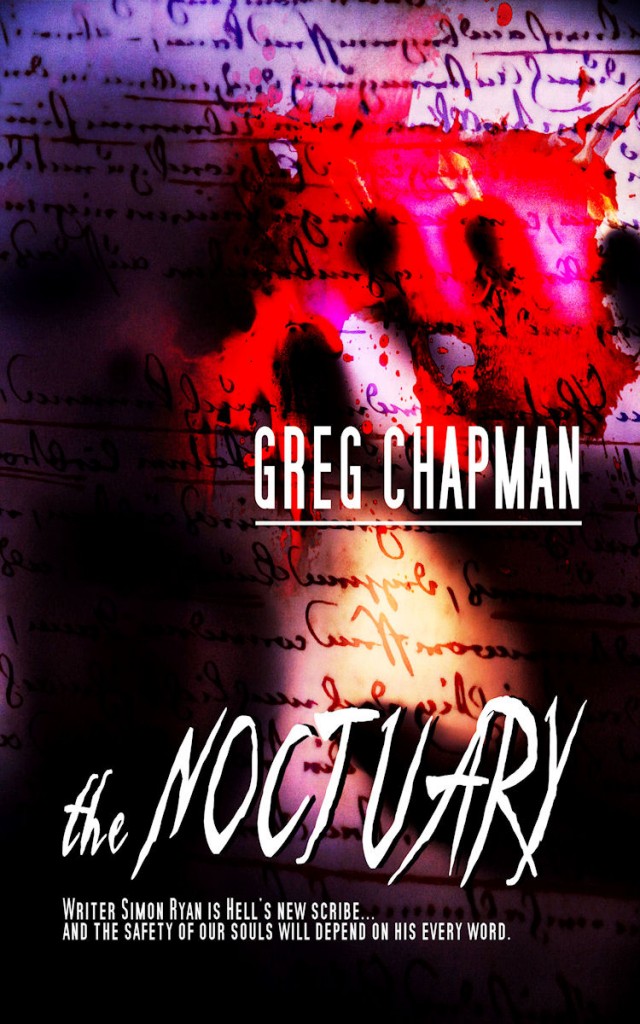 Struggling writer Simon Ryan's life has gone to Hell.
Shadows are pouring into his reality and his words are not his own anymore. He has been chosen to become a scribe for some of the worst creatures of the Underworld – the ones whose sole purpose is to torment human souls – The Dark Muses.
As Simon writes, he falls deeper into the abyss and before long he has no sense of what is real. With the help of another scribe, old and mutilated, Simon comes to discover that his writing can mould people and places –- that he can write things out of existence.
To become a scribe Simon has to pass a test and the Muses offer him a chance to rewrite his horrible past.
All he has to decide is how the story ends….
Read an Excerpt
All of a sudden the darkness parts like a curtain and a tall, robed figure steps out, bathed in a dull light. As my eyes adjust, I glimpse the being before me. The figure is at least eight feet tall. Beneath the scorched lace of its endless robe I can see a bone-thin body wrapped tightly in pale grey skin.
Then I see its face; two orb-like eyes centred in a glistening, hairless head. Strange hieroglyphs are scattered about the face, ancient scars carved into the flesh. As I gape in horror the thing beckons me with outstretched hands.
Its fingers look sharp and menacing. As it glides closer I finally see they are not fingers at all, but rather the pointed ends of ancient quills. Bloody ink spills from each tip onto my lounge room floor.
My God, what are you? I hear myself say.
The thing smiles, revealing a toothless mouth, moist with the same foul ink.
"I am no god, Simon. I am no devil. I am purely an inspiration to lost souls. Only the privileged can bear my countenance."
I sit rigid in my chair as the creature hovers around me, observing me with its hollow eyes. I dont want to look away from it, but the entrance from whence it came lures my gaze. Beyond the curtain of night I can make out a corridor with walls made of parchment, stained and marked with every written language on Earth and others I could never comprehend. The sound of scratching, multiplied a billion times over, echoes throughout the corridor and out into my home.
Abruptly the creature blocks my view and with a wave of his spindly hand the curtain is drawn. The room plunges back into darkness.
"No, Simon, not for you – not yet."
I look back to where the creature is standing, but the darkness has blotted him out. All I hear is his voice.
"First you must master your words in this world before you can write them in mine."
**Read
Invocation – A Prelude to The Noctuary
FREE!**

The Noctuary Tour Schedule

Monday, December 5th
Guest Post at InkyBlots
Tuesday, December 6th
Review at Alchemy of Scrawl
Wednesday, December 7th
Guest Post at Mad Moose Mama
Thursday, December 8th
Review at Mad Moose Mama
Friday, December 9th
Review at Literary Persuits
Monday, December 12th
Guest Post at The Story Behind the Book
Guest Post at The Book Spark
Tuesday, December 13th
Interview at The Examiner
Wednesday, December 14th
Review at Must Read Faster
Thursday, December 15th
Review at Reviews by Molly
Review at The Top Shelf
Friday, December 16th
Guest Post at The Top Shelf

Greg Chapman's THE NOCTUARY ONLINE BOOK TOUR DECEMBER 2011 will officially begin December 5th and end December 16th. If you would like to host him on his tour, please contact Jaime at jmfictionscribe(at)yahoo.com.au. Thank you for your support!
Giveaways, Contests & Prizes!
In celebration of Greg Chapman's new release, he will be appearing at Pump Up Your Book's 1st Annual Holiday Extravaganza Facebook Party on December 16. More than 50 books, gifts and cash awards will be given away including signed copies of his first novel Torment and The Noctuary! Visit the official party page here!