Interview with Kate McGuinness, author of 'Terminal Ambition' - WIN A KINDLE FIRE!
ABOUT KATE McGUINNESS
After leaving the corporate world, Kate was determined to master writing and riding, pastimes that often led to confusion in the telling. Her studies of creative writing proved to be more successful than her horseback adventures which included a broken leg! However, her love of horses remains. Kate also took the opportunity to be more fully involved with her son's life – too involved, he would say. She enjoyed watching scores of soccer games and cheering his team on to a divisional state championship. All grown up now, her son lives in Eastern Europe and teaches English as a second language. In addition to Terminal Ambition, Kate writes on women's issues for a number of online sites. Her essays have appeared in Role/Reboot, Jezebel, Fem2pt0, Women's Media Center and Ms. JD. You can follow her on Twitter @womnsrightswrtr. Kate lives in a utopian community in the Midwest with her husband, dogs and innumerable squirrels.
To learn more about Kate, visit her website: www.womensrightswriter.com
You can also find out more about Terminal Ambition at http://www.terminal-ambition.com
Q: Welcome to The Writer's Life, Kate. Can you tell us a little bit about yourself and how long you've been writing?
A. I grew up singing protest songs and have retained my passion for civil rights. Although progress has been made on many fronts, women's rights have largely stagnated. I decided to combine the skills gained during my legal career with the desire to advance these causes. I've dreamed of being a novelist since middle school. When I left the corporate world, I studied creative writing at UCLA. Terminal Ambition is my first published novel. Several short stories and another novel are tucked away in my bottom desk drawer.
Q: Can you please tell us about your book and why you wrote it?
A: Terminal Ambition is set in a leading Wall Street law firm. Maggie Mahoney, a partner at the firm, battles to stop harassment and discrimination of female employees but her fight jeopardizes the goal of the firm chairman to be named United States Attorney General. Unlike most novelists who begin with a plot or characters they want to explore, I started with the goal of educating women about their workplace rights in an entertaining context. I chose a fast-paced legal thriller with a female protagonist to reach a broad audience. Women continue to suffer sexual harassment and discrimination regardless of how prestigious or humble their occupations. I have encountered women who shrugged off these problems and women who became suicidal because of them. Many reviewers call Terminal Ambition a "page turner" so it seems I've achieved my goal of entertaining readers. I know I've achieved the educational objective because the book contains an appendix laying out steps to take when confronted with harassment and discrimination.
Q: What were some of the biggest challenges you faced writing it?
A: Although I thought my years of legal drafting would give me a leg-up in writing fiction, I found the opposite was true. The exquisite precision required to craft a three billion dollar agreement – and I've written a few of those – results in stiff, unwieldy fiction. Also, I had to learn how to create believable dialogue and portray emotion. I've been blessed with wonderful instructors including Janet Fitch whose novel White Oleander is brilliant in every respect.
Q: Have you either spoken to groups of people about your book or appeared on radio or TV? What are your upcoming plans for doing so?
A: I have spoken to groups about Terminal Ambition and have events scheduled in the coming months. Like many authors today, I have a YouTube channel. http://www.youtube.com/user/womensrightswriter
Q: Do you have an agent and, if so, would you mind sharing who he/is is? If not, have you ever had an agent or do you even feel it's necessary to have one?
A. I don't presently have an agent. My sense is that traditional publishing is in decline. There are a number of reputable literary agents who now act as "consultants" to those who self-publish. There simply isn't enough work to go around. I decided to self-publish for several reasons including the relative ease of creating the paper and digital versions of the book. Also, traditionally published authors complain loudly about the lack of support they receive from their publishers in marketing. It seemed foolhardy to cede revenue to a traditional publisher for marginal benefits.
Q: Did you, your agent or publisher prepare a media blitz before the book came out and would you like to tell us about it?
A: I focused my media efforts prior to publication on obtaining cover blurbs for Terminal Ambition. Because my goal in writing it was more than simple entertainment, I sought endorsements from academics about the book's value to working women and other professionals. I was delighted when Susan Estrich, a feminist law professor and Fox News commentator, called Terminal Ambition a "must read."
Q: Do you plan subsequent books?
A: I plan a series of legal thrillers centered around Maggie Mahoney and issues confronting women today. The first chapter of the sequel Erotic Capital is included at the conclusion of Terminal Ambition.
Q: Thank you for your interview, Kate. Would you like to tell my readers where they can find you on the web and how everyone can buy your book?
A: Readers can contact me at
http://womensrightswriter.com/contact.php
or
http://terminal-ambition.com/about-the-author/
. Terminal Ambition is available at Amazon.com in both paperback and Kindle.
ABOUT TERMINAL AMBITION
Maggie Mahoney wants justice for women at her law firm. The firm chairman wants to be Attorney General. Only one can win. Sweeny, Owens & Boyle sits at the top of Wall Street law firms. Brilliant and beautiful, Maggie Mahoney became a partner and the trophy wife of its managing attorney. Her husband's death renders Maggie an outsider with the firm's male establishment and creates a power vacuum. Obsessed with his dream of becoming the next Attorney General, firm chairman, Andy Anderson, chooses a surprising replacement: Jack Slattery, a reputed sexist. Jack's background hardly qualifies him for such a prominent position. Maggie suspects Jack has something on Andy, but what is it? Andy's ambition drives him to desperate measures. With proof of misconduct in hand, Maggie demands justice, but it comes at a high price. If ambition rules, can justice prevail?
Watch the Trailer
~ ~ ~ KINDLE FIRE GIVEAWAY ~ ~ ~
Pump Up Your Book and Kate McGuinness are teaming up to give you a chance to win a Kindle Fire!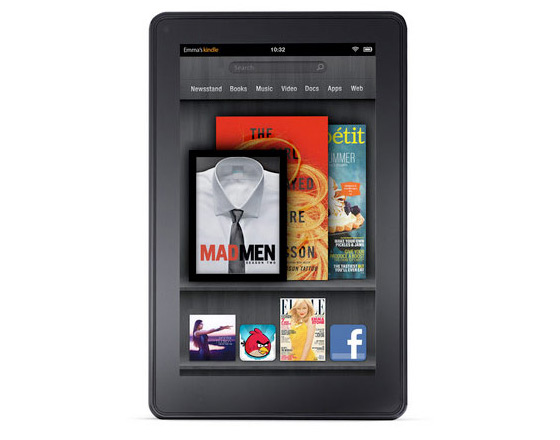 Here's how it works:
Each person will enter this giveaway by liking, following, subscribing and tweeting about this giveaway through the Rafflecopter form placed on blogs throughout the tour. If your blog isn't set up to accept the form, we offer another way for you to participate by having people comment on your blog then directing them to where they can fill out the form to gain more entries. This Kindle Fire promotion will run from August 13 - November 16. Winner will be chosen randomly by Rafflecopter, contacted by email and announced on November 17, 2012. Each blogger who participates in the TERMINAL AMBITION is eligible to enter and win. Visit each blog stop below to gain more entries as the Rafflecopter widget will be placed on each blog for the duration of the tour. If you would like to participate, email Tracee at pumpupyourbookvp(at)aol.com. What a great way to not only win this fabulous prize, but to gain followers and comments too! Good luck everyone!
ENTER TO WIN!
a Rafflecopter giveaway
~ ~ ~WIN $50 GIFT CERTIFICATE ~ ~ ~
One lucky person who comments the most on Kate's blog stops will receive a $50 gift certificate. The blog host who receives the most comments through the tour will also receive a $50 gift certificate! Woot! If you would like to be a host, email Tracee at pumpupyourbookvp(at)aol.com.