Pump Up Your Book! Announces December 2013 Authors on Virtual Book Tours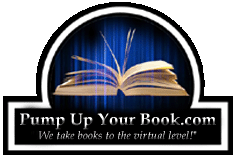 Find gifts for every reader on your list. Pump Up Your Book is featuring dozens of authors with books in a variety of genres. Children's picture books, young adult novels, romance titles, thrillers, Christian novels, personal finance books and more are all on tour in December. Be on the lookout for chances to win great prizes.
Amish fiction titles come to you from Laura Hilton, Charlotte Hubbard, Naomi King, and Paul Stutzman this month. If you have a lover of thrillers on your list, you'll want to check out books from R. K. Avery, Carlyle Clark, James Fielder Sr., LDC Fitzgerald, Marlene Morgan, Susan Sloate, and
David Wind and Terese Ramin. Dr. David R. Fett, Stephen Langford and Connie Malcolm are also returning this month with their spy thriller, "White Rogue." Romance lovers will find books from Jo Kessel,
Prescott Lane
, Kaylin McFarren, and P.M. Terrell. Also on tour in December are: Brad Cotton, Fey Ugokwe, Wendy VanHatten, and Robert Steven Williams.
For those young readers on your list, we have Sal Barbera's picture book, "Mary Elizabeth The Spotless Cow." This book is on sale from the author's website and 50% of the net proceeds from each book benefit the Phoenix Children's Hospital Child Life Program. Also on tour is C.C. Gevry with the seasonal title, "A Christmas Kindness," and Kelly Preston and her picture book, "Mister Spunky and His Friends." And for young adults, don't miss fantasy from C. M. Gray, science fiction from Brad Magnarella and Deborah Rix, and the pet book, "Real Dogs Don't Whisper."
In nonfiction, we have business books from Don Holbrook and Daisy McCarty, "
How to Trade Stocks Using Options" by Jimmy Slagle, and "Hypothyroidism, Health and Happiness" by Steven Hotze. Kim Hilton and Ronald Kirk share their Christian titles, and Jeff Bauer talks about his inspirational essays featured in "Folds in the Map." Also on tour are George Dupras and Leif Gregersen.
Pump Up Your Book! is a virtual book tour agency for authors who want quality service at an affordable price. More information can be found on our website at
www.pumpupyourbook.com
.
Founder of Pump Up Your Book! Virtual Book
Tours