10 Things I Loved About Sheila Roberts' Christmas in Icicle Falls @_sheila_roberts #review
Title: CHRISTMAS IN ICICLE FALLS
Author: Sheila Roberts
Publisher: Harlequin Mira
Pages: 368
Genre: Women's Fiction
BOOK BLURB:
When Muriel Sterling released her new book,
A Guide to Happy Holidays
, she felt like the queen of Christmas. She's thrilled when the new tree she ordered online arrives and is eager to show it off—until she gets it out of the box and realizes it's a mangy dud. But rather than give up on the ugly tree, Muriel decides to make a project out of it. As she pretties up her tree, she realizes there's a lesson to be learned: everything and everyone has potential. Maybe even her old friend Arnie, who's loved her for years. Except, she's not the only one seeing Arnie's potential…
Meanwhile, Muriel's ugly-tree project has also inspired her friends. Sienna Moreno is trying to bring out the best in the grouchy man next door, who hates noise, hates kids and hates his new neighbors. And while Olivia Claussen would love to send her obnoxious new daughter-in-law packing, she's adjusting her attitude and trying to discover what her son sees in the girl. If these women can learn to see the beauty in the "ugly trees" in their lives, perhaps this might turn out to be the happiest holiday yet.
My Thoughts:
'Tis the season and ho ho ho - Sheila Roberts has far outdone herself in her latest book,
Christmas in Icicle Falls
and the last in the Icicle Falls series. We find the gang in their usual holiday spirit, only wanting to take it a step further. Each has their own conundrum just like we all have. Roberts take us into the lives of these women who each try to fix something in their life - from a grumpy old man to finding love again to reviving a Charlie Brown mail-order Christmas tree. Sierra (I could be wrong) seems to be the main character - having not read the previous books in the series (okay okay slap face!), that's what it seems to me or at least in this book I was connecting with her more. But all the characters were highly lovable with each a distinct problem they were determined to find a solution for. I read this book holed up in a hotel room during Thanksgiving and what a wonderful compliment to the holiday season. I was thoroughly enjoying it. A little snow out my hotel room might have been neat but who cares - the book took me to Icicle Falls, a place I would love to live! It's a shame this is the last book in the series. I can't wait to see what Roberts has lined up next. It's a Chicken Soup for the Christmas Soul must read!

10 Things I Loved About Christmas in Icicle Falls
1. Even though I hadn't read the other books in the series, it didn't matter. I fell right into the story.
2. Characters likable and well-defined even the old grouch.
3. Cover was exquisite; so Christmassy.
4. Book engulfed me from the get go.
5. Icicle Falls - excellent setting and neat name!
6. Reminded me of a Hallmark movie.
7. Muriel's ugly tree project reminded me of a pine tree I cut down in the woods behind my grandmother's house. The smell overtook its ugliness so I know miracles can happen.
8. Meadow broke my heart. Her mom didn't do much with her as was reflected in her attitude but without giving anything away, all's well that ended well.
9. Loved the recipes at the back, especially Bailey's Peppermint Cupcakes.
10. Christmas in Icicle Falls gave me a warm cozy feeling and need to go back and read the rest of the series!
Meet the Author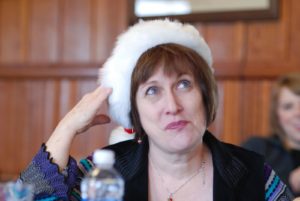 USA Today best-selling author Sheila Roberts has seen her books published in multiple languages and made into movies. She lives in the Pacific Northwest, dividing her time between a waterfront condo and a beach home. When she's not on the tennis courts or partying with friends she can be found writing about those things dear to women's hearts: family, friends, and chocolate.
Her latest women's fiction is
Christmas in Icicle Falls
.
WEBSITE & SOCIAL LINKS: